Dear Colleagues and Friends,
It is again a great honor and pleasure to welcome you all to the 5th Annual WIP Taipei Interventional Cadaver Pain Workshop, which is endorsed by WIP and organized by Taiwan WIP Registered Society in Taipei Taiwan, to be held on 13-14 Jan 2023. The two-day workshop will be followed by FIPP/CIPS examination on 15 Jan, held by Board of Examination of WIP.
With the lifting of entry restrictions in Taiwan due to Covid-19 pandemic, our life has gradually returned to the normal track. The workshop will cover key topics on advanced interventional pain management, ultrasound workshop with life demonstration and hand on scanning on cadaver, as well as fluoroscopic cadaver workshop.
The main theme of the workshop is "Redefining Advanced Interventional Pain Management" It will provide cutting edge information on advanced techniques and regenerative medicine for pain management.
Pain relief remains a global unmet medical need and becomes increasingly crucial in Asian countries. We strongly encourage all pain clinicians and practitioners in Asia and also the rest of the world to join us.
We cordially invite you to attend the 5th Annual WIP Taipei Interventional Pain Workshop and FIPP/CIPS examination!
Sincerely yours,
Program Director
5th WIP Taipei Interventional Pain Workshop
WIP Founder & Past President
Chair, WIP Taiwan Registered Society
Program Co-Director
5th WIP Taipei Interventional Pain Workshop
Chair of Organization Committee
5th WIP Taipei Interventional Pain Workshop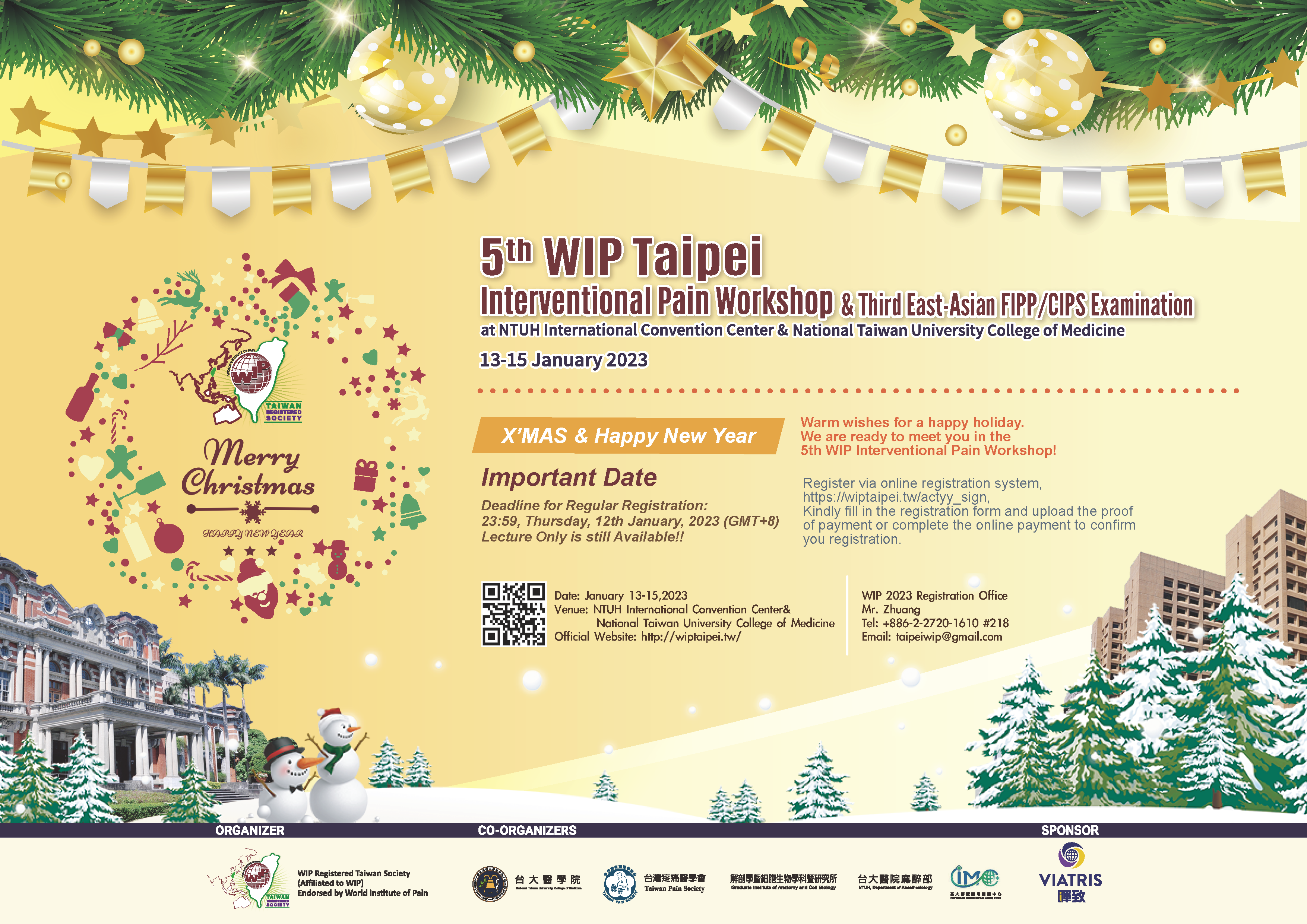 Fluoroscopy Workshop
1E Student Laboratory
Lecture only
Ultrasound Workshop
1E Student Laboratory
Program Schedule and Venues ■ ■
Conference Date and Site:
13 January, 2023
Room 301, NTUH (National Taiwan University Hospital)
International Convention Center

Fluoroscopy Cadaver Workshop:
14 January, 2023
1E Student Laboratory
College of Medicine, National Taiwan University
1st floor, No. 1, Jen Ai Road section 1, Taipei, Taiwan
Ultrasound Cadaver Workshop:
13 January, 2023
1E Student Laboratory
College of Medicine, National Taiwan University
1st floor, No. 1, Jen Ai Road section 1, Taipei, Taiwan
Ultrasound Practical Workshop:
14 January, 2023
Interactive Lectures and Live Demos with Hands on Scanning Clinical Skill Center (B1)
College of Medicine, National Taiwan University
1st floor, No. 1, Jen Ai Road section 1, Taipei, Taiwan
FIPP/CIPS Examination Date: 15 January, 2023
Lecture hall 103 and 104
Clinical Skill Center (B1)
1E Student Laboratory
College of Medicine, National Taiwan University
1st floor, No. 1, Jen Ai Road section 1, Taipei, Taiwan